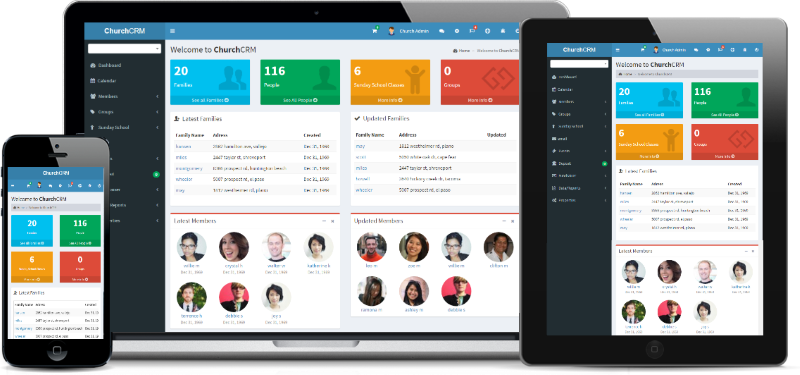 Login to Faith Lutheran's ChurchCRM by going to natronafaith.org/churchcrm
ChurchCRM is a free open-source online directory database program to help churches organize members, families, groups, and volunteers. Faith Lutheran Church uses ChurchCRM as an online church directory for our office staff and church members to use.
Since 2014, Faith Lutheran Church has been using ChurchInfo as an online church directory for our office staff and church members to use. After several years of using ChurchInfo, in 2021, we upgraded to its latest predecessor, ChurchCRM.
FAQ
What software or app will I need to download?
ChurchCRM works on all devices. There is no software or app to install. You just need your favorite, up-to-date web browser, like the one you are using to read this web page. There is a mobile-friendly interface if your device has a small screen.
How do I get a username & password? ~ I forgot my password ~ I cannot log in.
Contact the Database Administrator, James Waltenbaugh. He can set up Church Members with a username & password and reset forgotten passwords if needed. Contact details for James Waltenbaugh are not published online.
I found something in the Church Directory or Database that needs fixed/updated.
Every effort is made to ensure our Church Directory and Database are up-to-date and accurate. If there are any errors or omissions, please contact the Church Office or James Waltenbaugh.
My Church is interested in ChurchCRM.
Check out their website, churchcrm.io
User Statement
Information in our database may not be used for solicitation or commercial purposes that are unaffiliated with Faith Lutheran Church – Natrona Heights, PA. Unauthorized/illegal access or use can be subject to civil liability or criminal prosecution.